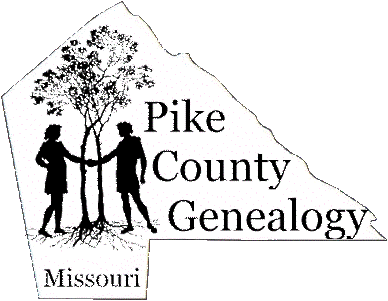 More Information
Links will open in a new browser window.
Have you suggested a link you don't see here?
We do not share links that require payment or only lead to sites that require payment. Sites must also offer helpful information. If you believe we have overlooked a site that meets those requirements, please don't hesitate to email us again.
Thanks for your understanding!

Adjoining Counties
Audrain ~~ Montgomery ~~ Lincoln ~~ Calhoun, IL ~~ Pike, IL ~~ Marion ~~ Ralls
Local
Missouri Death Certificates, 1910 – 1955 -- There are links to images through 1920 (all of them will eventually be there) and
they will send you photocopies of the others for only $1.00 each!

Missouri Post-1910 Death Records - Death certificates available for $1.00

Missouri Department of Health: Bureau of Vital Records
930 Wildwood, Jefferson City, MO 65102; (573) 751-6400

Missouri "Research Room" - The Missouri State Archives is the repository for state records of historical value. Currently, the Archives holds more than 150 million pages of paper; 245,000 photographs; 14,400 books; 60,000 reels of microfilm, and 180,000 microfiche. Examples of what is available online are Judicial Records, Military Records, Archives' Online Catalog, Birth & Death Records Database, Civil War Provost Marshal Index Database. Coroner's Inquest Database, County and Municipal Records on Microfilm, Land Patents Database, Local Records Inventory Database, Missouri Supreme Court Historical Database, Naturalization Records Database, St. Louis Circuit Court Historical Records Project, St. Louis Probate Court Digitization Project, Soldiers Database: War of 1812 - World War, and more.

Missouri State Genealogical Association
Journal Table of Contents Page 1, Page 2, Page 3 - Temporarily indexed and posted

Newspaper Library - The State Historical Society of Missouri

Sanborn Fire Insurance Maps of Missouri Collection - This collection contains maps published before 1923 of many Missouri cities.
Bowling Green
Clarksville
Frankford
Louisiana

State Historical Society of Missouri
1020 Lowry Street, Columbia, MO 65201-7298; (573) 882-7083

University of Missouri Digital Library - 1930 Platbooks
Veteran's Administration - The VA has made it easier and faster for the public to get answers about family history, old war buddies or famous war heroes. The agency has put on the Web 3.2 million records for veterans buried at 120 national cemeteries since the Civil War. The VA's Nationwide Gravesite Locator also has records for some state veterans cemeteries and burials in Arlington National Cemetery since 1999 (http://www.cem.va.gov/). The navigator includes names, dates of birth and death, military service dates, service branch and rank if known, cemetery information and grave location in the cemetery. The VA will withhold some information, such as next of kin, for privacy purposes. For more details, see this article. For more on military death and burial programs, see the Death & Burial Overview.

WWII Pilots - A French site dedicated to American Air Force and Navy pilots who died in France during WW2. Marcel Ertel (Website Owner) is a member of a group which arranges to place plaques and hold celebrations locally in France, with the deceased's family when possible. (Note: This site is largely in French.)
Books of Interest - Available online

Please Note: External links are not in any way connected with this site, nor does this site have any control over their content. These links are provided for convenience only. Their inclusion here does not imply endorsement of the accuracy of their content. If you find a broken link or if you would like to include a site you have found particularly helpful, please contact us.