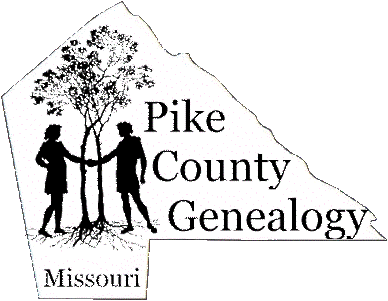 Pike County Communities
Little Africa
The Story | Surnames | Death Certificates | Today | Cemetery Today | Plat Maps
Download the booklet
You will need Adobe Acrobat Reader to view the booklet.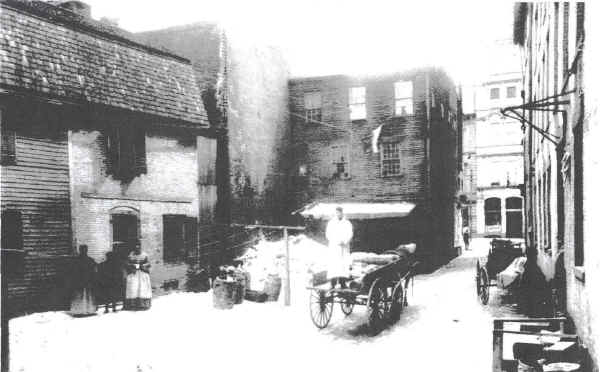 This circa 1890 photograph taken on Gold Street is fascinating because it might capture the appearance of the Park River Black Community in the nineteenth century. On the right distance one sees a commercial building up on Main Street, and at the upper left is the First Congregational steeple that can still be seen today. To our back, Gold Street continued down to Trumbull Street. This section of it, then called Mill Street, ran along the bank of the Park River. Although Gold Street is a block from what is usually taken to be the original Black Neighborhood in Hartford.





The Story of Little Africa
For black Missourians, the 1860s and 1870s brought many changes. The Ordinance to Abolish Slavery in Missouri was completed on January 11, 1865, thereby freeing enslaved Missourians eleven months before the Thirteenth Amendment to the U.S. Constitution ended the "peculiar institution" of slavery for good. In 1868, the Fourteenth Amendment granted black Americans citizenship and guaranteed them equal protection under the law and all civil liberties afforded white persons, and the Fifteenth Amendment in 1870 gave black men the right to vote.
These developments ushered in an era of transformation, with many freed slaves celebrating independence, while simultaneously struggling to find jobs, receive an education, and survive in an environment of increasing intolerance and oppression.
The burning of black schools and churches, and the competitive job market drove many black Missourians out of the state. In fact, by 1870, there were fewer blacks in Missouri than there had been before the Civil War.
Beginning around 1880, with the rise in "Jim Crow Laws" which established legal segregation, and continuing through the Supreme Court ruling in Plessy v. Ferguson (1896), which stated that separate facilities for black and white citizens were constitutional, the passage of discriminatory laws that oppressed African Americans became standard. The turn of the century saw a rise in acts of violence and murder perpetrated by angry mobs living outside the law. These lynchings of black citizens across the United States, including Missouri, were often ignored by those whose job it was to enforce civility and safety within communities. This grotesque streak of violence would continue for decades, and made life as free Americans even more unsettling for black citizens.
The years between 1880 and 1920 show a steady migration from smaller communities within Missouri to larger cities, especially St. Louis, where an already established black community provided the opportunity to receive an education, find jobs, and live with less fear regarding theft safety from those still bitter about the Civil War and the new rights given to African Americans.
Census data shows the detail of this population shift and resulting social change. Moberly's population was 10.6% African American in 1900, and by 1920 it was 6.5%. In 2000, it was 6.7%. Hannibal's population was 14.5% in 1900 and 8.8% in 1920. By 2000, it was down to 6.6%. Conversely, the city of St. Louis rose from 6.1% African American in 1900 to 9% in 1920. In 2000. African Americans represented 51.2% of the population.
Although they were no longer bound to slave masters, many black Americans still found themselves working as farm laborers. In fact, in 1910, the most common occupation for black men and women in America was "Farm Laborer."
While the struggle for better paying jobs would continue, black Missourians were making strides in the realm of education. In 1860, 41% of free blacks were illiterate, but in 1910, this number was down to 17.4%. In 1920 it was 12.1% and by 1930 only 8.8% were considered illiterate.
African Americans in Missouri between 1880 and 1920 had many hurdles to success, and the question of their progress versus their oppression can be debated. It cannot, however, be denied that at the turn of the century, black Missourians were more educated than at any other time in their past history. And the twentieth century was destined to bring new challenges, new burdens, and new achievements.
Peno Township, Pike County Missouri. This township is in the northern part of Pike County. Most of this township is hilly and uneven. The township is full of bubbling springs of pure water. From this hilly terrain is a very large cave that passes about 1/4 of a mile long. The roads were made up of dirt and gravel; other transportation was the Shortline Railroad.
Frankford was the largest town in Peno Township. Just south east of Frankford was a small settlement known to the locals as Little Africa. In this settlement was a church, a school, a blacksmith, a store, and a cemetery (St. Peters Cemetery). The property in 1875 was originally owned by a Frank A. Suda.
By 1924 the plat map of Pike County shows Little Africa as 54 North, Range 3 West, Section 14. Jackson Harris owned the land where the church and the cemetery were located . This is why the cemetery is listed as the Jackson Cemetery. Oscar Mallory owned both sides of the road where the school was erected. George Hardwood, P. F. Morgan, S.C. Wooten, and C. L. Reading also had land nearby.
Little Africa was a settlement of free colored folk, who lived near each other. They forged ahead to make a better life for future generations. They wanted better education, better opportunities, and at the same time a quiet peaceful home life. Communities like this sprang up all over the state and all over this country. They needed a place to call home without any white folk giving them a hard time. They needed a place of their own. Some were dirt poor while others worked out as farm labor or whatever job came along. Segregation was a big part of those times and another reason to have a church and school and other social necessities to form a whole Black Community.
The purpose of this book is to try and gather as much history and information about the people and their neighbors as possible -- to give an account of this little community and it's existence. This is a part of everyone's history, no matter the color of our skin. If someone doesn't mention the existence of these communities they become lost forever to those of us trying to preserve either this county's history or our own.
Although this book has been placed on the shelf of the Pike County Genealogy Society library, it is not finished. New information will be added as we receive it in the hope this helps someone who has roots here. It is also our hope that others will feel free to add their history here.
It is my personal hope that someone can get some use out of the information available in this book. I hope, too, that it inspires those who know of other communities like this to research and create a new existence for them too.
Thank You,
Audrey Jones
Researcher
Surnames that may be relevant:

Bell
Geesbury
Lewis
Ross
Biggs
Gibson
Mallory (Maloney)
Small
Blackwell
Gorden
Malicy
Smith
Blunt
Harris
Martin
Tucker
Brown
Hobbs
McCarty
Vaugh
Cox
Hodges
Mitchell
Williams
Curtis
Howard
Page
Willis
Davis
Irvine
Porter
Wilson
Dixon
Jackson
Redding (Reading)
Woods
Early
Kelly
Roberson (Robertson)
Wright
Death Certificates are included in this book for the following surnames:
Jackson

Blackwell

Mallory

Howard

Bell

Tucker

Harris
Little Africa Today
The Little Africa Cemetery Today
Little Africa Plat Maps
| | | |
| --- | --- | --- |
| | | |
| 1875 | | 1924 |