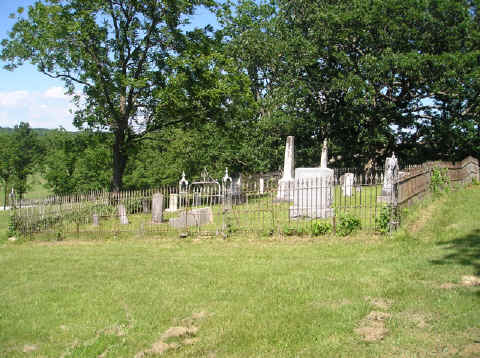 McCune Cemetery
If you have pictures you would like to share,
forward them to Rhonda Stolte Darnell.
Please include a transcription of the writing
on the stone, where the stone is located, your name and
a valid email address, in case she needs to
contact you with questions.
Stones without death dates will be blurred.
Note: Slave graves are located outside the fence, marked by plain field stones.
Our thanks to Norm C. for his pictures and the information regarding slave graves.
Surname
Given Name
Born
Died
Comment
Brown
John Ton
24 Aug 1896
1896
"Son of C.B. & __ssie Brown"
McCune
Jo
24 Oct 1828
19 Oct 18
DS
McCune
Jo T.
illegible
illegible
"Son of Jo & Mary McCune"
McCune
Mary C.
18 Jan 1832
4 June 1916
DS
McCune
Rebecca
8 May 1854
"Aged 23 Years 2 Mos & 2 days"
McCune
William L.
11 Sept 1802
5 Oct 1836
"Married to ___ 6 Nov 1826"
McCune
William Richard
22 Aug 1869
11 Oct 1897
"Son of Joe & Mary C. McCune"
"Aged 28 yrs 1 mo. 19 dys"
This site and all written contents © 2000-2010, Pike County Genealogical Society
The site design and all graphic contents © 2000-2010, Rhonda Stolte Darnell