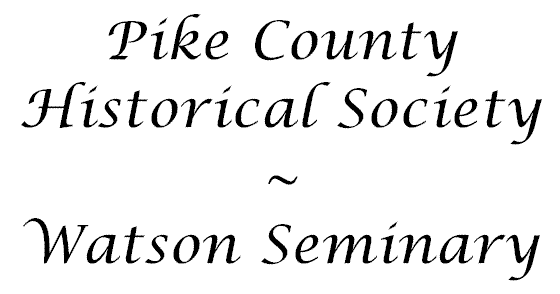 1854 - 1916
The following story appeared in the St. Louis Globe-Democrat, July 19, 1914. The article was headlined "Romantic Story of Watson Seminary". Several former residents of Ashley say Watson Seminary was torn down sometime in the 1930s due to neglect and disuse, and the land was returned to the Watson family. A marker was placed at the site, and it still exists today. The following is the article:
If you ever go to Pike County -- of course I mean Pike County, Missouri -- don't stop till you come to Ashley. It is seven miles south of Bowling Green over the gravel road. Take my word for it, you will be repaid for the trouble and expense of the journey. Especially if they tell you the tale they told me there (and they will if you give them half a chance). It is of Watson Seminary and the men and women and boys and girls that made it famous. If you listen to what the old citizens tell you, and you can't help listening if they start in on it, you will be convinced that there were more great and remarkable men connected with Watson Seminary than all the rest of the world put together. To begin with, Samuel Watson, the man from whom Watson Seminary took its name, was a remarkable man in many respects, unless the old settlers were mistaken, and I hardly see how they could be, for the inscription on his tombstone says, in substance, that from the time he came with his three brothers from York District, South Carolina, and settled in Buffalo Township till the day of his death:
None knew him but to love him,
None named him, but to praise.
And praise from a tombstone is praise in deed.
In his will, which is still preserved in the records of Pike County, Samuel Watson bequeathed to an aged Negro slave woman, named "Esther", her personal freedom and $500 to be held by the County Court in trust for her benefit during her lifetime, and at her death to go toward starting a fund to assist indigent young men to obtain an education.
Bowling Green at that time was the seat of learning and importance and gave out opinion to the surrounding country. John B. Henderson, afterward a general in the Union Army, and United States senator from Missouri; David Patterson Dyer, afterward congressman and United States district judge; James O. Broadhead, minister to Switzerland; Thomas Jefferson Clark Fagg; afterward judge of the Supreme Court, Judge Nicholas Peter Minor, Judge Aylett H. Buckner, Gov. Robert Alexander Campbell, Judge Gilchrist Porter, Judge Samuel Fenton Murray, Congressman Granville Ourey, Col. William L. Gatewood, Judge George W. Anderson and a score of more or less lesser lights were practicing law there and, it was considered for prestige, power and influence, that Bowling Green could give the rest of the towns in Pike two in the game and beat them. Also, there was a Bowling Green Academy, which was supposed to teach all the erudition vouchsafed to mortals, and where, first and last, all of the great men of the country have taken a hand in teaching the young idea how to shoot. Meanwhile, the ancient negress, "Aunt Esther," having gone to join "Uncle Ned" and other worthies in "the land where the good niggers go," the Watson fund had increased and multiplied till it was a neat sum and the big-wigs of Bowling Green thought it would be the part of wisdom to turn Bowling Green Academy into Watson Seminary, and put the Watson fund into circulation and let the 'poor indigent young men and women be getting the benefit of it."

AFTER THE FUND
At that time there was a man living at Bowling Green named Dr. William Bolton, a gentleman and a scholar, also an Englishman that could sing by note, and for these reasons held in high esteem as an adviser on educational, civic and social matters. The leading citizens held a meeting at Dr. Bolton's to discuss ways and means of getting hold of the Watson fund. Dr. Bolton advised, first of all, that the Bowling Green people get together and do exactly what he told them and not talk back; and he said that if they would do that, they would come out "more than conqueror." Everybody agreed to that except the County Court Clerk, Aymond St. Victor by name, who was descended from the ancient nobility of France and consequently somewhat of a rival of Bolton's in the affection and admiration of the people.
St. Victor was not only a scholar and a gentleman (he wrote a beautiful hand and was fine at figures), but a necromancer as well; and his performances along that line were a source of constant astonishment to the natives. He was of a mercurial temperament and was either up in the pictes or down in the cellars. In picture days he was wont to boast of his family and play the violin.
Dr. Bolton's idea was to get the permission of the County Court to use the Watson fund for the erection of an "institution of learning," to be located at the place in Pike County most suitable for its situation, which would, of course, that is, Bowling Green. So it was arranged that a strong lobby be sent to Jefferson City to bring about the proper legislation. That was in the days when the Legislature passed every sort of a special bill ever devised y the ingenuity, wit or imagination of man. Everything turned out exactly as Dr. Bolton had predicted; in due time the proper legislation was enacted in the "the fines and forfeitures of the County of pike be used for an endowment fund for an institution of learning to be known as Watson Seminary, to be located at the place in the county offering the greatest inducement for said location. "When the news of this legislative act reached Bowling Green the people, with one accord, sought Dr. Bolton's office to compliment him upon this generalship.
Dr. Bolton who was also the county treasurer and a splendid talker, received the thanks and plaudits of his fellow townsmen with a satisfaction that he took no pains to conceal. He said Bowling Green suited him better than any place he struck since he left England; and that in some respects Bowling Green had England skinned. Continuing, he said that for versatility of talent and ability to stamp improvement on the wings of Time Bowling Green shot ahead of any town of its size on the habitable globe; and in conclusion, he advised that Bowling Green go ahead and change the name of Bowling green Academy into Watson Seminary, raise the necessary subscription and, if it did, it would be repaid for all its outlay, for he said: "Only the actions of the just Smell sweet and blossom in the dust." The meeting then adjourned and Aymond St. Victor went off humming: "Fee, fi, fo, fum. I smell the blood of an Englishmun." Nobody paid any attention to St. Victor's humming, "Fee, fi, fo, fum," except to laugh, and somebody remarked that "Frenchy" was getting his dander up because he wasn't the whole show, and Dr. Bolton good-naturedly replied that St. Victor was a good hand to cipher but he ………………….

ASHLEY WINS PRIZE
Ashley was then a thriving village in the center of a rich and beautiful agricultural neighborhood. The farmers were a free-going, pleasure-loving people, who liked to live and let live, and have a good time. There were plenty of Negroes to do the work and all that the men had to do was to enjoy themselves talking politics on weekdays and theology on Sundays.
Lemuel Wells, the leader of the Ashley cohorts, was a man of iron nerve and "horse sense" and in addition to these blessings, he was by common consent the "best off" of anybody in the neighborhood, owning a thousand acres of land adjoining Ashley. Lemuel Wells started the game with a big subscription and all the Ashley men followed suit; then Wells threw in the site; as pretty a piece of woodland pasture as ever the sun shone on. Meantime the Bowling Green citizens, spurred to new efforts by the opposition, doubled her subscriptions and confidently awaited the end of the contest. It came of the 7th day of November, 1853, when according to the order of the court, the bids were opened, and it was found that Ashley's bid exceeded that of Bowling Green by exactly $1400. So, of course, Ashley won out.
How did it happen? Nobody knew, although many in Bowling Green professed knowledge, but when these gossips were pinned down to facts they could only testify that as Dr. Bolton and his friends and coworkers stood dazed and dizzy with the shock of defeat, they heard the sound of Aymond St. Victor's violin playing the "Marsellaise Hymn." Then, it was said, they looked each other in the eye and with one voice exclaimed: "Well I'll be dammed!" Doc McAllister, a namesake of Bolton's, always claimed that St. Victor told Lem Wells what Bowling Green's bid was before the bids were opened and that Lem Wells planked down an extra thousand and won the day, but Doc may have mistaken ---certainly it is the gloom of Bowling Green enchanted the joy at Ashley.
Ashley went home with mane and tail up and laid the corner stone of Watson Seminary, but it took the starch out of her feathers (or to speak more accurately, out of her tail) when she discovered that there was nobody in the broad confines of the Ashley neighborhood that had architectural skill enough to construct a seminary that would fit the corner stone, so she humbled her pride and made overtures to the county seat, and that is how it happened that a Bowling Green man was the architect that built Watson Seminary. His name was James Madison Blaine. He was the father-in-law of Gov. Campbell, and was a mighty builder in his day. Sir Christopher Wren couldn't hold a candle to him, if what the old settlers say is true.
The school opened under splendid auspices in 1854. Rev. Joseph Poage was the first president. Under ordinary circumstances the reverend doctor might have developed into one of the most remarkable men of the country if his identity had not been completely swallowed up in the overmastering personality of his favorite and favored pupil, John Armstrong McAfee, afterwards founder of Park College, Parkville, Mo. McAfee was born to command and took to leadership as naturally as a duck takes to water. He developed a great talent for organization, and had unbounded influence both with the faculty and students. Afterwards he went to Westminster College, situated at Fulton, the county seat of Callaway, the strongest Presbyterian County in Missouri, where he graduated in1859, and in August of the same year he was married to Miss Anna Bailey, a daughter of the pioneer Presbyterian families of Missouri and a teacher of music at a girls school at Fulton.

THE CONCLUSION
Among the Callaway County girls that Miss Vee Bennett brought over to Ashley were her cousin, also McAfee's cousin, Annie Bennett, who afterwards married William Pitzer, the bell wether student of Watson Seminary, and came to Pike to live. By and by her young sister, Genevieve, visiting Mrs. Pitzer, met Champ Clark, married him and lived happily ever afterwards.
In his adherence to the Union McAfee was at variance not only with his kinfolk's and friends in Callaway County, but with his friend and preceptor, Dr. Laws, then president of Westminster College at Fulton. Dr. Laws, who believed in the divine right of the state to secede, took occasion to lecture his students, and advise them that if they felt like joining the Confederate Army he would interpose no objection. Most of the boys took him at his word, among them Joseph and Sydney Bennett, young brothers of Miss Vee, also Sedosius Bennett, Woodson Bennett, Richard Stephenson, Hugh and David Todd, Robert McKamy Brown, James McAfee Brown, William Wallace MacFarlane, her cousins in the first degree. Then McAfee sounded a blast upon his bugle horn and as many of his students sprang to arms in defense of the Union; among them Samuel McAfee, John Duncan MacFarlane and Bennett Collins, also cousins to Miss Vee. So things got terribly mixed up. Dr. Laws was banished from Missouri to New York where he showed Wall Street a few things and made a big fortune. Miss Vee, who had a conscience she tried to keep void of offense toward God and Man, spent all her spare time on her knees imploring help and guidance from on high. McAfee admonished her that if her right eye offended her to pluck it out, for so he assured her, it were better to have one eye, or as for that matter no eye at all, and a good conscience, than to have two good eyes and to be cast into hell; to which Miss Vee is said to have replied that "the spirit was indeed willing but the flesh was weak." McAfee undoubtedly had great influence over his cousin. Nobody else could have made her take that dreadful Drake oath, which even Gen. Frank Blair, Gen. B. Gratz Brown, Col. Robert A. Campbell, Gen. John B. Henderson, and other ex-Union soldiers could not swallow. McAfee persuaded her to take the oath, "rammed it down her throat"; some people said. At all event she took the oath but it hurt her conscience and oppressed her spirit; for it stands to reason that a person who had as many near kin as Miss Vee had taking an active part in the rebellion could not, without damage to her conscience, swear that she had no sympathy with rebels. Well, she swallowed it -- but it killed her -- at least that's the way the story goes. McAfee always claimed that her death was a part of God's eternal plan, and that Omnipotence for some wise purpose had decreed before the foundation of the world that Miss Vee should fall a victim to the unsanitary conditions then existing at Ashley. The doctors said it was typhoid fever. There was an epidemic at Ashley, the first victim being beautiful golden-haired Helen McAfee, the young sister of the president. Miss Vee, who was constantly at Helen's bedside, was the next to go. She was delirious from the first, and her last words were "Oh it is so dark." Her mother, who had ridden horseback from Callaway County, reached Ashley a few minutes after she died. McAfee met her at the threshold and embraced her; he always loved his kin, especially the women. 'The Lord doth give, the Lord hath taken away" he said, "and blessed be the name of the Lord."
There was weeping and wailing and (it must be admitted) some gnashing of teeth in Ashley over Miss Bennett's death, for the people loved her much and blamed McAfee for, as they expressed it, trying to make a sow's ear out of a silk purse. Her body lay in state in the chapel and McAfee rose from his knees to preach her funeral. His face was radiant as one who had held converse with the angels. His text was: "Eye hath not seen, ear hath not heard, neither hath it entered into the heart of men to conceive what God hath prepared for them that love Him."
It melted every heart, and rebel and unionist wept together. In spite of his buoyant faith and resolute character, Miss Bennett's death was a staggering blow to McAfee prospects. Callaway County withdrew her patronage, Pike County began to grumble about fines and forfeitures accruing from the whole county going to fill the coffers of Watson Seminary, McAfee who had a big heart and couldn't bear to turn anybody off that wanted an education shouldered more financially than even he could carry and make buckle and tongue meet, so he fell into financial straits and thought he saw the head of God in a call to another field. He always had the scheme in his head that was afterward carried out at Parkville. He lived to see his dream come true, but not in his beloved Ashley. It was foreordained that Parkville should be the field of his great achievement. McAfee sleeps there and Park College is his monument.
An ancient man, whose voice was like the wizard voice of Time heard from the tomb of ages, told me this story and pointed out Miss Vee's tombstone in the old graveyard. "And What," I asked, "became of the rest of them? Where is McCormick, the merchant prince, and Simeon William Sission, the immortal miller, and Capt. Purse, commander in chief of the Union forces at the battle of Ashley, where P. Wells got his wooden leg shot off and his name handed down to posterity through Champ Clark in the Congressional Record: Where are Pat Bell's pretty daughters that were called the belles of Ashley, and all the young sparks that came a-wooing them fifty years ago?" "All dead," replied the ancient man; "that is, most of them is; and lying here alongside of Miss Vee. Them that is alive has moved to Bowling Green."
The Chronicler

SCHOOL PICTURE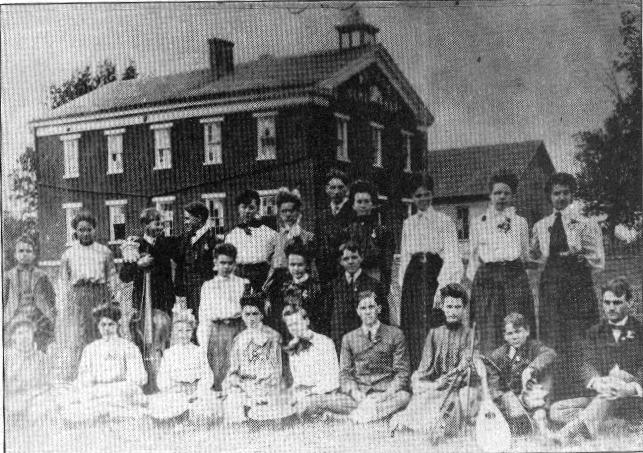 WATSON SEMINARY 1858
The following article was taken from an old catalogue of Watson Seminary, Ashley, Mo., which was printed in 1858.
"This school, a number of years ago, was one of the leading colleges in this section of the state and many familiar names will be recalled by our older readers.
"The third annual catalogue of the officers and pupils of Watson Seminary, for the year ending March 10, 1858, Ashley, Pike County, Mo.
"Board of Directors:
P. H. Bell, president; Wm. H. Purse Esq., secretary; John McCormick, John Purse, James C. Elmore, J. Newton Orr, Aylette H. Buckner, Esq., S. S.Russell, Esq., Hon. Peter Kerr.
"Board of Instruction:
Rev. J. B. Poague, A.M., Principal and Professor of Mathematics and Natural Sciences; R. Nesbitt Baber, A.B., Professor of Ancient Languages; ? A. McAffee,* Assistant in _______ Department and teacher of _______ Music; Miss Maggie J. Laird, Teacher of Instrumnental Music. Thomas H. Musick, Assistant in Preparatory Department. *Resigned.
"Senior Department:
"Sue M. Crow, John B. Draper, Cassius C. Eastin, Josephine Hendrick, Jennie E. Kellog, Wm. Kerr, Thomas H. Musick, Samuel F. Orr, Ashley; Robert H. Cornett, Mexico; Cyrus Creigh, Lewisburg, Va.; Agnes Crosthwait, Madisonville; John William Gentry, Greenfield, Ill.; Mary F. Gillum, Louisville; James F. Hanna, Florida; John W. Keithley, Cincinnati; Annie E. Laird, Potosi; John A. McAfee, Emerson; Thomas A. McClearey, Montgomery City; Peter Powell, Paris; Robertson Wlhiteside, Auburn.
"Junior Department:
"George Bryant, Annie E. Crow, Mary C. Draper, Ambrose H. Elmore, Kate Gillum, Henry C. Hendrick, John Kerr, Jessamine Lewallen, Rebecca Neff, John T. Ocheltree, Calvin A. Poague, Mary E. Purse, Araminta A. Riggs, L. Jennie Wells, Malinda yager, Ashley; Lucie B. Brown, Wm. H. Carver, Amanda L. Fox, Lucretia Jones, Edmund Jennings, V. Calistine South, Bowling Green; John W. Caldwell, Spencerburg; Wm. A. Christian, Lynchburg, Va.; Bettie L. Coffy, Milwood; Clifton F. Gosney, Paris, John Mabry, Nineveh; Daniel Orr, Louisville; Wm. H. Penix, Frankford; Fannie E. Reid, Auburn; Robert Thompson, Spencerburg; Christoper N. Wills, Sistersville, Va.; Marcellus S. Whiteside, Auburn.
"Preparatory Department:
"Annie C. Bell, Rebecca L. Bell, Mary Burks, Nannie Burks, Claudius Cash, Josephine Corbitt, Joshua R. Corbitt, Roland H. Eastin, Benjamin R. Elmore, James G. Elmore, James L. Elmore, Laura Euler, Clark B. Gillum, Isaac T. Gillum, Sue F. Hendrick, Sarah A. Hickman, Mollie E. Kellog, John B. McDaniel, Lithgo McLane, Tempe V. Neff, James H. Ocheltree, John H. Oden, Wm. E. Orr, Adelbert D. Poyser, Mollie A. Reid, Artemus W. Riggs, Sarah E. Riggs, Wm. N. Rutherford, Zerelda A. Sanders, Wm. F. Strother, Geo. H. Smith, Robert K. Smith, James R. Vannoy, Alivia P. Wells, Bettie D. Wells, Charles P. Wells, Ashley; Wm. A. Harris, Charles Morris, Bowling Green; Margaret A. Arbuckle, Seguin, Texas; Joab Bradley, Louisiana; Annie M. Caldwell, Spencerburg; Maggie J. Clare, Milwood; David J. Duncan, Louisville; Elijah B. Gentry, Greenfield, Ill.; James W. Jeffries, Travellers' Repose; John J. Knight, Prairieville; Mary E. McClearey, Montgomery City; Wm. C. McFarland, Sarah E. McGinnis, Wm. J. Sandfur, Louisville; Mary L. A. Poague, Florida; Annie J. Rutter, Louisiana; Mary E. Shaw, Prairie Mound; M. Agnes Summers, Middletown.
"Primary Department:
"Isaac Bound, John N. Bound, Matilda M. Bound, John W. Bryant, Frederick S. Burks, John F. Burks, John F. Burks [repeat], James Elliot Cash, Lizzie J. Clare, John W. Crow, Laura M. Crow, Virginia Crow, Mary E. Dyer, Thomas Dyer, Joanna H. Elmore, R.O. Elmore, T. Josephus lmore, T. Cass Elmore, Simeon N. Gillum, Walter B. Gillum, Jas. L. Hendrick, Marcellus Hickman, Thomas D. Kerr, Annie King, Jacob W. King, John N. King, Sallie F. King, Z. Taylor Latimer, Sarah L. Laken, Waren Laken, J. Marshall Leasure, Narcissa W. Leasure, Eugene Lewallen, Maggie Lewallen, Jacob Long, Ruth E. Neff, Fannie A. Orr, John L. Orr, J. Manuel Orr, Mary M. Orr, Mary E. Poague, Irene Purse, Z. Taylor Purse, Ann E. Reese, Forest L. Reid, Clara E. Rigs, Eli W. Russell, John N. Russell, Sue Ann Rutherford, Sarah E. Rutherford, Reuben A. Strother, Edwin T. Walden, J. Marshall Waden, James M. Wells, Martha Wilbarger, Wm. O. Wilbarger, Missouri Wilson, Ashley; Walter F. Crow [,] Cleopatra Tinsley, William Tinsley, Bowling Green; Isaac N. Henderson, Hunterville; Jennie A. O'Conner, Shelbyville; Henry Shaw, Lausiana [sic],Mary E. Summers, Quncy, Illinois; Joseph W. Tapley, New London."