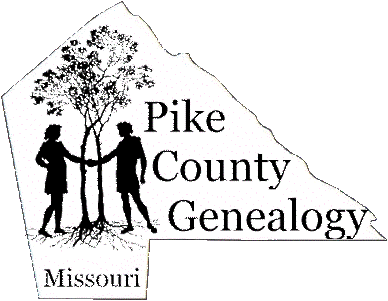 Mystery Marriage License
This marriage license hangs in the Pike County Genealogy Library.
SOLVED!
See below ...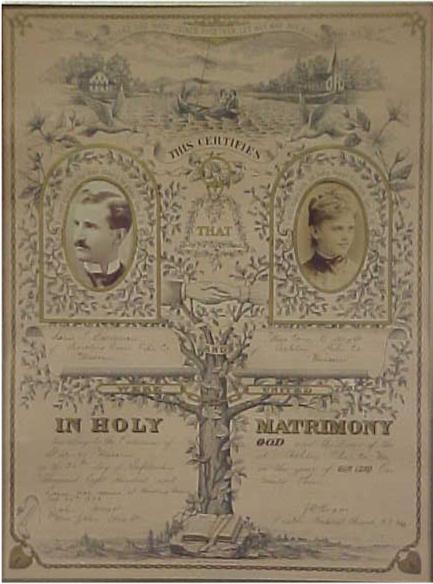 To see larger views of various areas, click on those areas in the picture or on the links below.
Top
Husband's Picture
Husband's Information
Wife's Picture
Wife's Information
Writing under "In Holy"
Writing under "Matrimony"
Detail of corner
UPDATE!
We received this note:
This is in regards to the Mystery Marriage certificate you have on your website. After searching for a few minutes on the 1880 census' (page 536 A) Calumet, Pike, Mo) I came up with John E and Alvia P Wright as the parents of Cora E Wright. Louis' parents were John E and Ella Sanderson found on page 582 c of the 1880 census of Bowling Green, Pike Co, Missouri. Both Louis and Cora E were born in 1871.
I had hoped that I was related as I am related to a bunch of "Wrights" from Pike Co. but I'm not. Thanks for the fun of looking this up.
Ed Cline
Many thanks to Ed for this timely information! We now have ancestors of Louis and Cora, how about descendants? Does anyone have any information on children? We look forward to hearing from you!
ADDITIONAL UPDATE
received 22 May 2012:
I don't know if my family genealogy is relevant regarding the Mystery Marriage License but here goes!

From Bowling Green, Pike County, Missouri
My fraternal great grandfather: Waller Sanderson
Waller's daughter my fraternal grandmother: Mary Sanderson Fields (moved to Frankford, Mo. after marrying my grandfather Leland S. Fields Sr.)
Waller's sons my fraternal great uncles: Ray Sanderson
Gene Sanderson
John Sanderson
Paul Sanderson

Thanks, Cassandra M. Fields-Coon