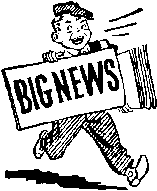 Click here to receive an email
each time the website is updated.
Click here to get all the
benefits of membership
Click here for Library hours
Please remember: Our site is only as good as the contributions we receive from our visitors.
--If you find useful information here, it is as a result of a contribution from another visitor.
--If you have information you feel could be of use to another researcher, please don't hesitate to forward it to Rhonda.
--If you find errors, please contact Rhonda so that they may be corrected!
July 9, 2012
Excerpts from The Echo added from both the Spring 2012 and Summer 2012 editions
New Home page (well, yes, this one, too, but here I'm talking about the page for our new home! LOL) updated
Another mystery solved
General Tweaks made :-)

May 22, 2012
Indices added of SOME Obits available at the library for:
1839, 1840, 1841, 1878, 1879,
1880, 1881, 1884, 1885, 1890, 1891, 1899,
1911, 1912, 1913, 1914, 1919,
1924, 1925, 1926, 1929, 1939,
1940, 1941, 1942, 1945
Dorsey Family story added
Civil War Resource added
Obituary listings added for:
BRIMER, Alexander Hamilton
BRIMER, John Stewart
BRIMER, Mary Ann (Sparks
BRIMER, William S.
HADIX, Susan A. (Brimer)
Surnames added
Photo and information added to Jordan-Buffalo Cemetery
Added 3 new pictures to "Who Is It?"
Various corrections made - if you have submitted a correction, please verify it has been made and let us know if it hasn't
Are you looking for information
on an ancestor buried in Pike County?
Although we have a lot of that information on this website, a new resource has been created by the Pike County Genealogy Society. Click here to learn more about this tremendous new resource and to learn how you can help!
We Need Photos!!
The new cemetery books need your help in order to make them awesome!! That is, we need your photos of your family in Pike County Cemeteries. Their page includes a picture of their stone, obit, death certificate, & photo of the person. If you have their obit & death certificate if it was after 1961 we need it. Having all of that makes these books better resources for future generations. Please share what you can and please do it soon. Our address is: PCGS, PO Box 313, Bowling Green, MO 63334.
Only YOU can make them AWESOME!